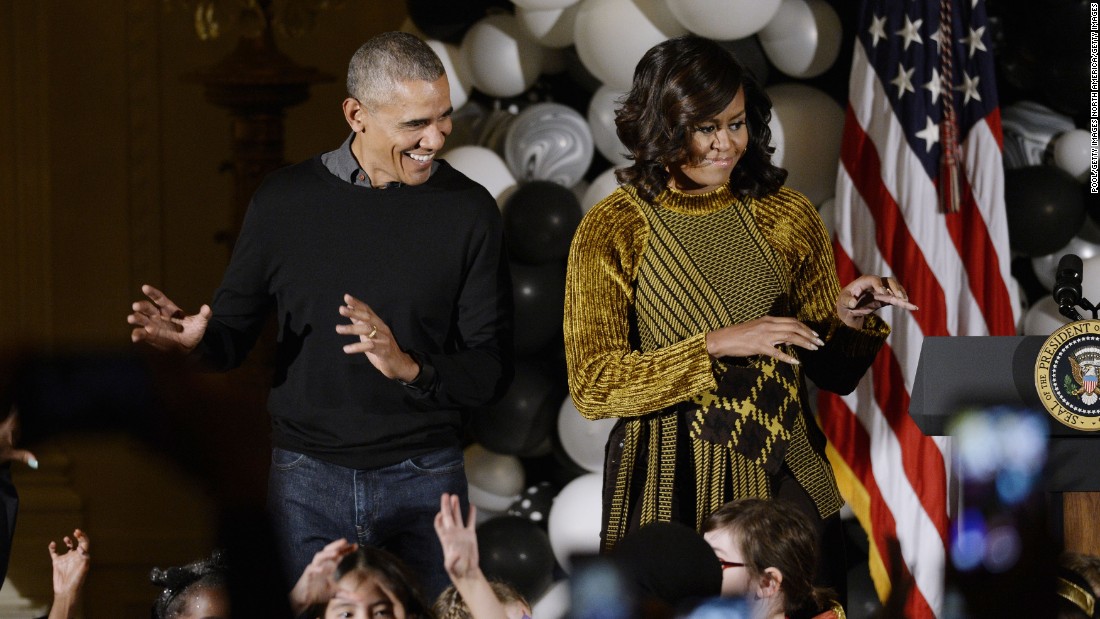 (CNN)Boys and girls of every age. Wouldn't you like to see something strange? Come with us and you will see this year's White House Halloween!
(More like Howl-oween, am I right?)
To mark their last Halloween in the White House, President Barack Obama and first lady Michelle Obama welcomed local schoolchildren and children of military families to trick or treat. You know that one house in your neighborhood that always gave out full-sized chocolate bars? The White House is the DC equivalent.
This year's treats included cookies, M&Ms, kettle corn and fruit bars (Michelle Obama had to get something healthy in there, right?) Much more traditional than the years they offered dried fruit.
The Obamas kicked off the festivities by showing their best "Thriller" moves.
It took a little while before they got in sync.
But then they channeled the spirit of Michael Jackson and everything came together.
This year's outdoor decor theme was "A Storybook Journey," featuring decorations inspired by stories including Mother Goose, Peter Pan and Alice in Wonderland. It involved these scary bunny puppet things.
President Obama was spooked by a baby. After all, there is nothing scarier than a baby.
I take that back. "Angry baby" is scarier than regular baby.
The first lady got to live out the end of every Scooby Doo episode and unmasked the kid in the "lame duck" costume.
President Obama got to live the dream and pet a dinosaur.
He also got to salute a small solider.
And he got to meet a mini version of himself. The President doesn't think his hair is quite as gray as the child's costume made him out to be.
The Obamas had their baskets refilled by Superman. Daily Planet fill-in White House reporter Clark Kent was mysteriously missing during this period of time.
The Obamas were remarkably unfazed by the zombie invasion of the South Lawn. Then again, they've seen a lot in the last eight years.
Read more: http://www.cnn.com/2016/10/31/politics/white-house-halloween-in-gifs/index.html