Tegan and Saras relationship might be tumultuous but their music proved cathartic for many after the Orlando shootings. They explain why moving into pop has opened up new worlds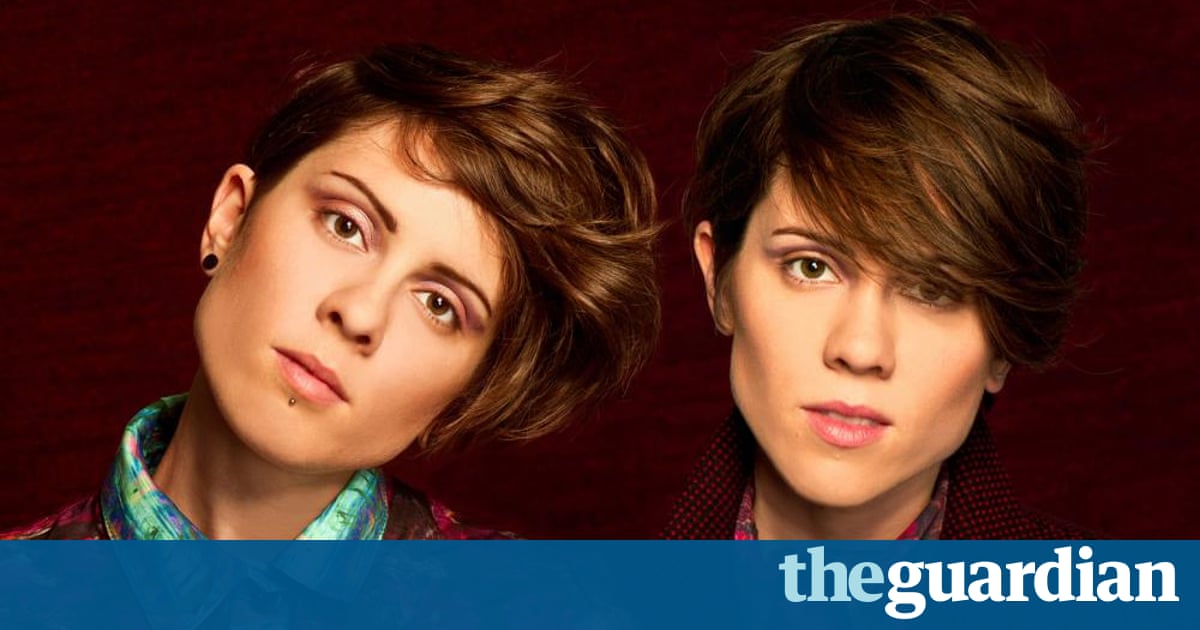 The day after the Orlando nightclub massacre, Tegan Rain Quin was walking with her girlfriend through downtown LA when an unusual feeling came over her.
We were just going to the store and for the first time I was, like: Idont want to hold your hand, she says. As she recounts the story, her voice wobbles and her eyes fill with tears. Oh God, I dont know why this is making me cry now, she says, apologetically.
It makes sense that she might feel scared, I say.
It wasnt that I was scared, but Iwas nervous. And then it went away really quickly. Straight away I was like: Fuck that! What a wuss! Were gonna hire security and go on tour! I wanted to get out there the very next day.
This attitude wont come as asurprise to anyone who knows Tegan and Saras music, which combines emotional vulnerability with a steely determination to do things on their terms. The identical twins from Calgary have been playing together since the mid-90s, releasing six albums of slowly evolving, earnest guitar music before an about-turn in 2013 led them to put out Heartthrob, an album of pure pop bangers that was apparently the blueprint for TaylorSwifts own synthy reinventionon 1989.
The follow-up, Love You to Death, picks up where Heartthrob left off 10 sparkling songs that tackle topics ranging from gay marriage (BWU features the line: Save your first and last dance for me/I dont need awhite wedding) to their own volatile relationship, which is documented in brutal terms on White Knuckles: Black and blue now/Breaking each other like/Knuckles in a fight.
The twins tumultuous partnership is no secret, but its the first time they have dared put it so explicitly on record. It must have been weird for Tegan to hear certain songs by Sara and think: Oh, that ones about me punching her. Or maybe not …
The truth, Tegan says, is that Ilisten to Saras songs as if shes aband that I like. So, when my inbox has anew song from Sara in it, I get excited,as if Beyonc just dropped atrack. It wouldnt occur to me to askwhat its about, because Iimmediately make it about myself, like any fan would.
On White Knuckles, they sing about making excuses for the bruises we wear, which refers to one scarring encounter. So, what were their excuses? Sara thinks for a second. Probably just not acknowledging that there were any bruises. We would look at people as if to say: What do you mean? What are you talking about?
Tegan agrees: We were often out on our own. And the second Sara and Ihad conflict, everyone would leave. It was alienating and awful at times. Wed look around at [other bands] and think, Youre having so much fun, cos they were friends. Whereas we were out there and it felt like some weird punishment or prison sentence. But we couldnt acknowledge it to each other. I couldnt say: I hate this, I hate being onstage, Im uncomfortable in my skin, I feel scared, alone, broke. Because [Sara] could have just been like: Me too, lets quit.
The pairs gradual rise has had the advantage of giving them the time to develop thick skins. When they started out, as a niche, guitar-based duo with minimal mainstream appeal, they had to rely on the indie press to reach their fanbase. This was often a less open-minded world than it liked to make out a recent Buzzfeed profile dredgedup one mid-00s NME review that concluded that the duo were quite lovely, even if they do hate cock. Elsewhere, they found themselves subjected to accusations that they were manufactured and evenincestuous.
The incest thing was actually two incidents, says Tegan, breezily. We were twins, I think people fetishised it.But there was a lot of homophobiaand sexism. The indie community is primarily white, hetero males. And were not. So, we were lumped into that community and then written about by people who didnt relate to us.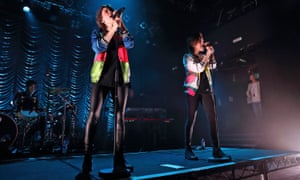 Read more: https://www.theguardian.com/music/2016/jun/30/tegan-and-sara-we-couldnt-tell-each-other-we-hated-being-on-stage