The long read: It was to be a grand day out: a peaceful rally to call for political reform. But the authorities were spoiling for a fight. The Peterloo massacre marked a turning point in our democracy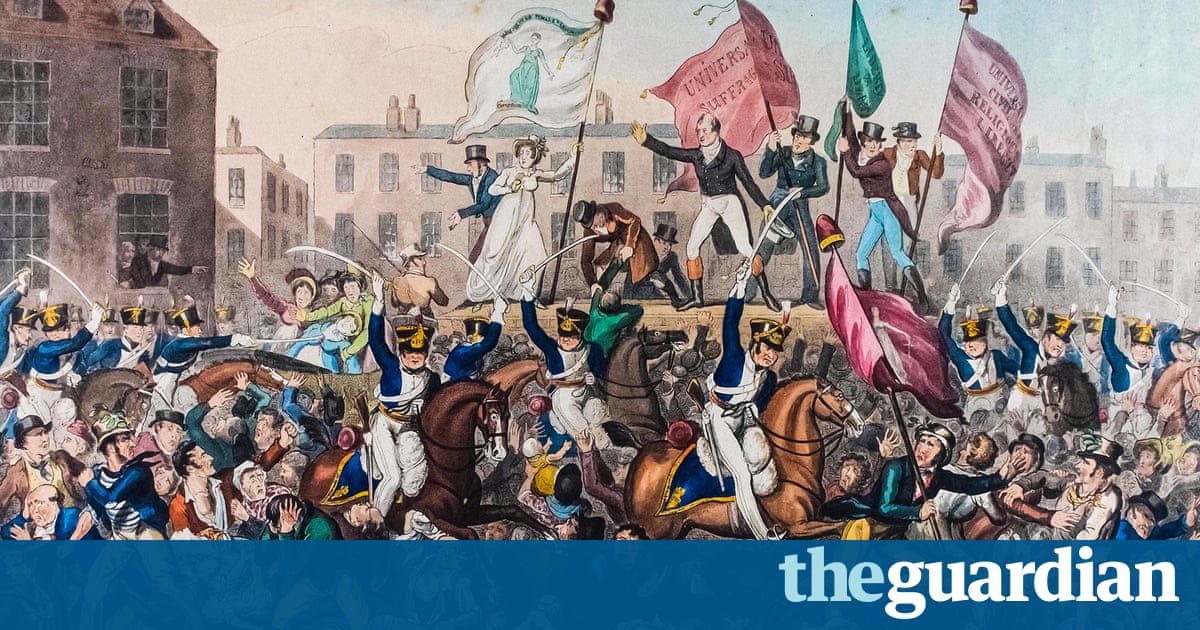 On the morning of 16 August 1819, animmense crowd poured into Manchester, perhaps the largest the town had ever seen. They came in an orderly and peaceful fashion. Banners bearing slogans such as Liberty and Fraternity and Taxation without Representation is Unjust and Tyrannical flapped in the breeze, and bands played patriotic tunes including Rule Britannia and God Save the King. It was a fine and sunny day.
On they came in cheerful mood; organised contingents from Bolton and Bury; 6,000 marching from Rochdale and Middleton; others from Saddleworth and Stalybridge; 200 women dressed in white from Oldham, together with families bringing their children and picnics with them.
If later estimates that 60,000 people gathered at St Peters Fields that day are correct, it means that practically half the population of Manchester and the surrounding towns (a crowd somewhat larger than that at most Manchester City home matches today) had come to attend a meeting calling forparliamentary reform. Having the vote mattered, they believed; it would change everything and force politicians to listen to their views and needs and respond.
A young businessman, 25-year-old John Benjamin Smith, was watching with his aunt from a window overlooking the open space on the edge of the town near St Peters Church. Helater wrote: There were crowds of people in all directions, full of good humour, laughing and shouting and making fun It seemed to be a gala day with the country people who were mostly dressed in their best and brought with them their wives, and when I saw boys and girls taking their fathers hand in the procession, I observed to my aunt: These are the guarantees of their peaceable intentions we need have no fears.
The people were expecting speeches and a good day out. What they were not anticipating was violence, carried out by troops sent in to disperse them, so aggressively that 18 people would be killed and more than 650 injured in the bloodiest political clash in British history. What happened at St Peters Fields would become known as the Peterloo Massacre aname coined by a local journalist named James Wroe in punning reference to the Battle of Waterloo four years earlier. Wroe paid for the joke by seeing his radical newspaper, the Manchester Observer, closed down, and was himself sentenced toa years imprisonment for seditious libel.
On the face of it, a Monday morning in August was a strange time to hold a political rally. Most factory workers would be attheir machines the deafening, ceaseless, clacking cotton spinning looms that ran in the mills day and night. An industry was taking off: there were 2,400 power looms locally in 1813; 14,000 by 1820, and 115,000 within 15 years. But the handloom weavers, who worked from home and traditionally took Mondays off after working all weekend, were available. They were still in the majority in the Lancashire cotton trade: 40,000 in Manchester alone, compared with 20,000 spinning-machine operatives in the factories but they feared for their jobs, skills, lifestyles and standards of living. Wages had halved since the end of the Napoleonic war: 12 shillings a weekfor 16-hour days, if you could get the work; a decade earlier, it had been 21 shillings a week.
As in many other towns during the industrial revolution, the population of Manchester was expanding rapidly: from 24,000 in 1773 to 108,000 half a century later. The Times reported from the inner-city New Cross area in the week of Peterloo: It is occupied chiefly by spinners, weavers and Irish of the lowest description its present situation is truly heart-rending and over-powering. The streets are confined and dirty; the houses neglected and the windows often without glass. Out of the windows the miserable rags of the family hung up to dry; the household furniture, the bedding, the clothes of the children and the husband were seen at the pawnbrokers.
But not this day: they were wearing their Sunday best. Many of the crowd were literate and articulate, and where previously they had struck for better wages and petitioned the king for food, now they also wanted political change. They wanted a reformed parliamentary system in which Manchester would get representation for the first time, and a rotten borough like Old Sarum, a windswept hill outside Salisbury largely abandoned since the Middle Ages, would no longer send two MPs to Westminster.
If there was to be representation, they wanted a share in it, with working men to have a vote alongside the propertied classes. Female reform societies had also recently sprung up across the north-west, calling for votes for women. They had already been subjected to ridicule, depicted by cartoonists such as George Cruickshank as sluts and whores, abandoning their families to meddle in things they had no business to think about. That was why the women dressed in white on this day to symbolise purity of character and motive. It wasalso why the cavalry would single them out for attack: ifthey wanted the same rights as men, they could face the same treatment.
Read more: https://www.theguardian.com/news/2018/jan/04/peterloo-massacre-bloody-clash-that-changed-britain