Who would be mad enough to do that? was the reaction from Rebecca Leys friends when she mooted the idea of having a third child. So, 10 months on, would she recommend it?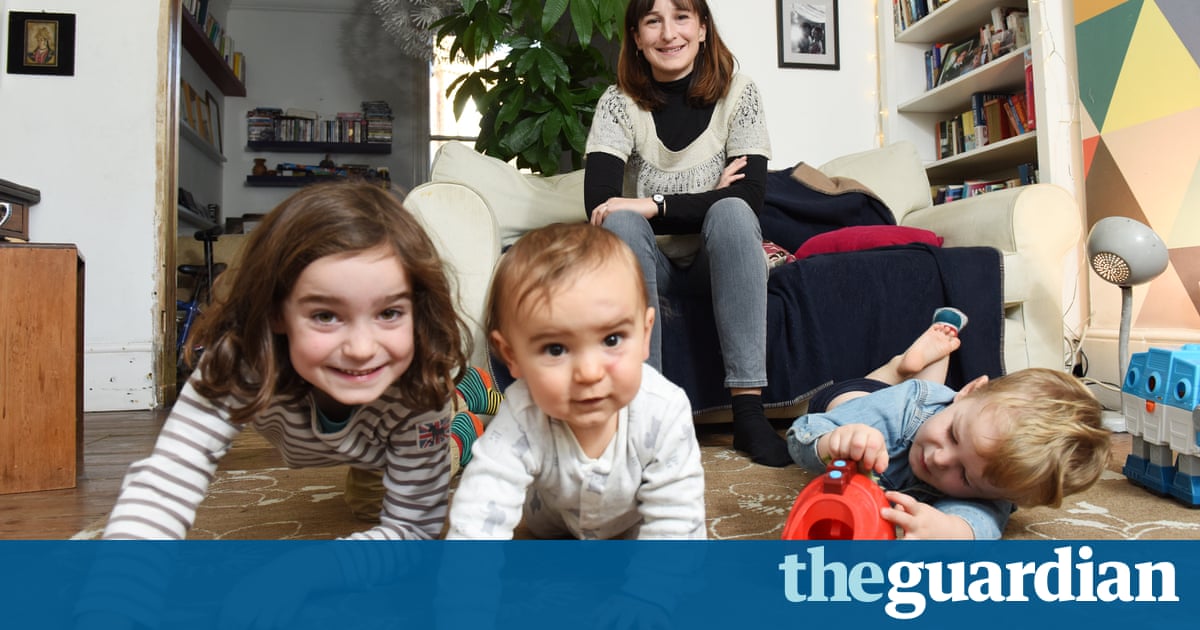 Someone once told me that everyone knows howmany children they ideally want. And for me, three was the magic number. We had two already, but I realised a question had formed andwas lodged in the back of my mind: Should I have another? Or, more pertinently perhaps, Wouldhaving three children ruin mylife?
Every night was the same. When I finally sank into the sofa after a day juggling the demands of work and two young children, I would open my laptop and start trawling the internet. For despite the fact that I already had a girl and a boy, a neat distance apart, I had a burning, overwhelming desire for that third baby.
I knew it wasnt logical. I was sinking in domestic quicksand as it was, with a husband working long hours and no family living nearby. I wanted my career back. I longed to casually go to the cinema, fly long-haul, and spend too much on shoes.
Such distant pleasures were just starting to heave back into view, lights on the horizon glimpsed from the deep water of mothering infants. Another baby would send me back out to sea. And I was far from sure that I could actually cope with the chaos of three children aged under six.
After having done it twice, once in rather frightening circumstances, I alsoknew that childbirth was a roll ofthe dice. Not to mention whether you had a healthy baby at the end of it.
In addition to that, I was watching my antenatal group friends, some of whom had also talked of wanting three children when we first met, all of whom had decided to stick, sensibly, at two.
Its the car and affording the family holidays, said one. Not to mention the environment. And Id like to read a book occasionally.
Right, said another, with a shudder. Who would be mad enough to do that?
But Mother Nature is nothing if not compelling, and my broodiness sat in my core like an ache. So every evening, I looked online to try to rationalise it. I read endless blogposts on the subject and disappeared down an Instagram-rabbit hole of sickly sweet photographs of larger families. Courtney Adamo has a lot to answer for.
That said, I knew with complete certainty that I only wanted one more. It sounds ridiculous, given that three children already exceeds the norm, but four children always struck me as far too many. Its just that two wasnt nearly enough.
My husband was subjected to a constant bombardment of persuasion. To be fair, he wasnt entirely averse to the idea. We both grew up in families with three children it was our shared template for a family. And after yet another conversation mulling it over, we decided to go for it.
So now, here I am, 10 monthsinto being a mother of three, trying to writethe article I was once sodesperate to read. But it turns out, abit like childbirth, or having your first child or any of those things thatpeople do that seem so normal until you have to do them yourself that its an experience you have to livethrough to understand. Im also well aware that Im only a thrice-parenting novice.
What I can say at this stage is that its an amplification of parenthood. So the exhaustion and anxiety are more intense, but so too are the fun and thelove.
Frequently, I feel like Im trying to walk up a hill in a blizzard, inching forward with my shoulder at an angle. Just trying to survive.
The washing alone is enough to make me weep. Not to mention the relentless cooking. Getting them all in their car seats in the back of our Ford Focus is like a particularly vicious game of Jenga, with added whining. And when one or more of us gets ill, it quickly descends into near-farcical scenes of horror. The amount of literal and metaphorical shit I have to deal with on a daily basis would appal my twentysomething self.
Sometimes I feel as if Im the ghost of the person I once was, haunting the stairs of my house toting odd socks and sippy cups.
Aside from the logistics, the hardest thing is balancing the childrens different needs. Its impossible to give my full attention when my six-year-old daughter wants to draw with me or mythree-year-old son wants me to play nee-nors with him. Not when the newly crawling baby is shuffling off to explore his yen for cat food andplugs.
And, as any parent of more than one child will tell you, they are all so incredibly different. I need three versions of myself to be the best mother I can to each of them.
So as each day goes past, Im also increasingly aware of the enormity of what my hormones have signed me up to. Such presumption! Ive made three actual mortals that its my responsibility to keep alive. To feed and clothe and read to and sing to and love, until I slip myself into the earth, grey and faded from all the work.
But despite the challenges, its definitely been worth it for us so far. The ache for another has been replaced by a profound fulfilment in feeling that our family is complete. Knowing he is our last seems to have made Sebastians fleeting babyhood particularly sweet. I consciously savour his chubby hands and downy head in a way that wouldnt have occurred to me before.
We are more of a tribe now and I can also see how much my children enjoy having one another, even with the predictable squabbling.
Whereas I previously felt sad about the prospect of getting rid of all the baby kit, Im now palming off bits of neon plastic at every opportunity. I amdone.
Third time around you are definitely more relaxed about much of it. Teething. Milky spit-up. Collapsing the buggy. Wiping down the highchair. Changing nappies. Administering Calpol. Even the dreaded 5.45am wakeup call. Its all a phase.
I miss it already.
Read more: https://www.theguardian.com/lifeandstyle/2016/dec/31/why-three-children-is-my-magic-number